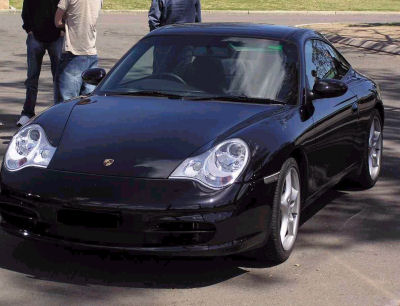 Porsche 911-996 3.6 Litre (12/02 complied 03 model)
Manual transmission
Targa top coupe
Onyx black in colour with black leather interior.
Travelled 25,000 kilometres
Factory upgrade 18" alloy rims
Up to date service history
This vehicle is beautifully presented, a credit to the previous owner. A superb package for you, the new buyer. Contact today for pricing.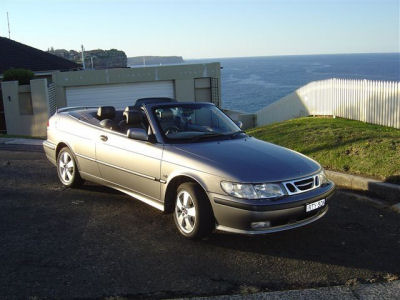 Saab 9.3 Turbo Anniversary Edition Convertible
06/02, compliance 01/2003
Travelled 36500 km's
Rego Due 26 May 06
Pewter in Colour
Leather Interior
Log Books
Always Garaged
Automatic
This vehicle is one owner, convertible. Immaculately presented and a beautiful Pewter colour duco. Equipped with all power amenities.
This vehicle is priced to sell today! Motivated Seller for sensible price.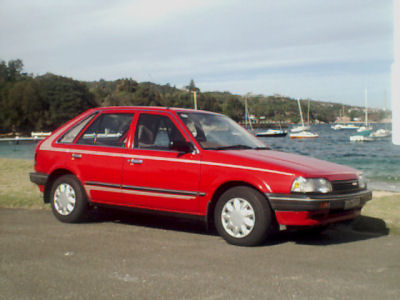 Mazda 323 Shades '89
Power steering
Air-conditioning
Automatic
5 door hatch
1.6L engine
This little fire engine red coloured car has travelled only 105,000 km's. 2 Owners, 2 Lady Drivers, Rego Expirt 03/06. Good tyres all round, very clean car. All services done.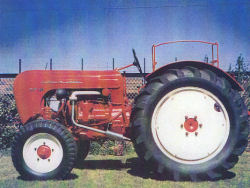 1956 Porsche Tractor AP-18
$24,990 – MAKE AN OFFER
My client bought this in 1987 in Hamburg, Germany. It has been repainted and fitted with new tyres. It runs well in original condition. Believed to be one of only two Porsche tractors in Australia and the only AP-18.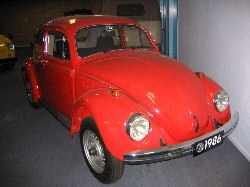 1986 Beetle
$29,990 – MAKE AN OFFER
My client bought it brand new in 1986 direct from Volkswagen of Brazil.
All VW's were driven on test track for 27klms at factory and has not been driven since.
It is and always has been in 'new condition'. The 'oldest' 'new' Beetle in Australia.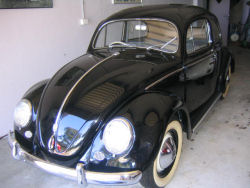 1956 Beetle
$29,990 – MAKE AN OFFER
My client bought this vehicle in 1983. I had it fully restored by Volksbahn of Sydney. This involved body off the chassis and all back to bare metal.
Every nut and bolt has been plated. All trim is authentic and as original.
Always stored since restoration and never driven. The best Oval Beetle available.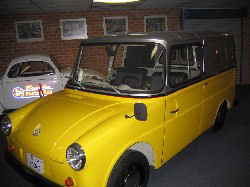 1974 Fridolin
$49,990 – MAKE AN OFFER
This vehicle was bought by me from the Swiss Post in 1987. Known as a Type 147. Complete with rare 'Post Office accessories'.
It has only 34,000 klms and is only one of its kind in Australia.
Now very rare in the world.
It has had a fully 'body off' restoration to bring it back to 'as new' condition.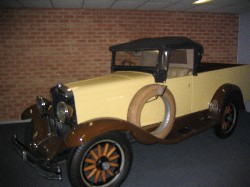 1929 Chevrolet Utility
$24,990 – MAKE AN OFFER
My client bought this vehicle in 1980 and it was put though a full ground up restoration. It has traveled only about 300 miles since this work.
It was converted to a Ute from a sedan whilst brand new and is branded 'Holdens'.
It is the first year of the 6 cyclinders and last of the wooden spoke wheels.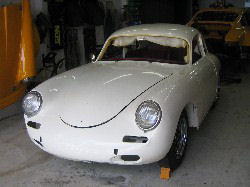 1960 Porsche 366B
$39,990 – MAKE AN OFFER
My client bought this in 1980 and started its restoration with a back to bare metal sandblast.
It was primed, painted, rustproofed and trimmed back then and stored since. Only about 125,000 original miles. It comes with about $10,000 of brand new parts from St??? ready to finish the assembly.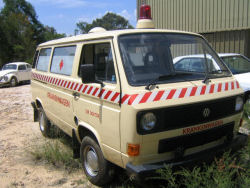 1985 Volkswagen Ambulance
$29,000 – MAKE AN OFFER
This is a Volkswagen factory ambulance which was brought for restoration in 1985. My client bought it in 1986 with only about 3,000 kms. It remains as new and unused complete with all fittings inside and 'hee-haw' sirens.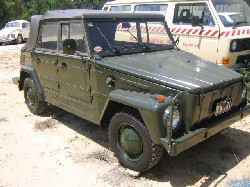 1974 Kubelwagen 181
$29,990 - MAKE AN OFFER
My client bought this in 1986 and put it though a body off restoration. It was used by the Dutch military before finding its way to Australia. Extremely rare and sought after vehicle.